Screen Printing
Screen Printing NZ Has Never Been This Simple
ImageOn Limited proudly offers screen printing in NZ, as well as several other product branding services aimed at helping you and your company get the recognition you deserve. We will ship the finished products anywhere nationwide, having walked you through the process from start to finish to ensure that you get precisely what you have ordered.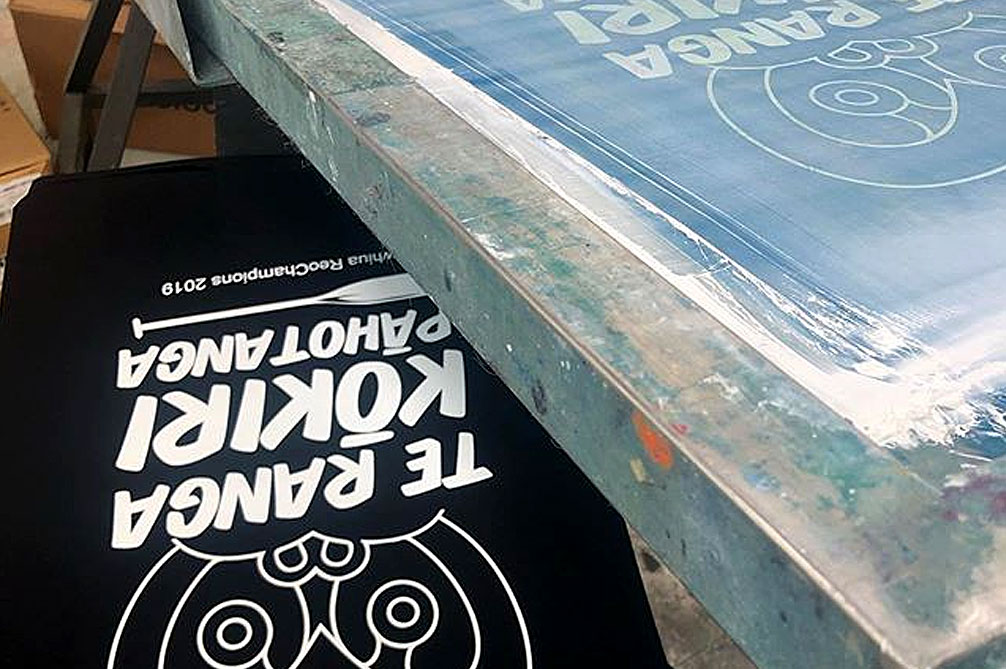 <
>
What You Can Expect From ImageOn Limited Regarding Screen Printing New Zealand
We follow a fairly straightforward process, offering you transparency throughout so that you will always know how your order is progressing. As is typical with any screen printing company, the process begins when you pay your initial deposit. We require that you pay a 90 percent deposit for us to start the branding process of screen printing your items. You will need to pay the remaining balance once we complete your order and release it for shipping.
Once you've paid your deposit for your screen printing service, we usually work according to a turnaround time of five working days, provided your order is straightforward and does not involve printing an intricate design or require the use of several colours. If you have placed a larger order for 1 500 pieces or more, or for items that need several colours, the turnaround time will be longer.
If you have a specific deadline, we will work with you to achieve this but cannot guarantee any requests - we will always notify you of the deadline date for your order in writing. We differentiate between a drop-dead date and an in-hands date in that the former is the latest date for an order to be completed and ready to be shipped. The latter is the date on which you will have your order in your hands.
If you need items to be ready in fewer than five working days, we will collaborate with you to get your items printed in as little time as possible. While we can often assist with the production side of things, shipping time is unfortunately beyond our control.
A History of Screen Printing
Screen printing is a technique that has been used for over a millennium. Prehistoric samples of stencilling in its earliest form have been found in caves, and you'll be interested to learn that a variety of methods for screen printing can be traced back as far as the Song Dynasty in China.
You need several tools before you can start with any form of screen printing. It is an intricate process, and the method most often used thousands of years ago was known as the mesh and ink-blocking process.
In the second half of the twentieth-century screen, printing enjoyed a resurgence and became extremely popular. One of the reasons for this is that you can produce items much faster than if you use conventional methods, such as painting.
In 1962, Andy Warhol produced his iconic Marilyn diptych using screen printing as his method of choice. Screen printing has enjoyed a new resurgence in recent years, as well as adapting to stringent environmental requirements to ensure that the impact on the environment is minimal.
Related Services We Provide To Custom Screen Printing
In addition to our popular screen printing service, we are pleased to offer several other complementary services, several of which we aim at ultimately achieving brand recognition for you and your company. Our doors have been open for five years. Still, we have several more years of experience under our belts, so you know you'll receive premium-quality products delivered with superior service.
Whether you're after larger promotional items such as umbrellas or hoodies, or a smaller range such as caps, t-shirts, aprons or even tea towels, we can help.
In addition to screen printing, digital printing, and screen-print transfer, we will assist with branding embroidery for you. We can embroider on most materials, so this is a great way to get your brand out there. Items such as caps or hoodies look great with specialised embroidery.
We can also assist if you need apparel. From custom vests or hoodies to a range of branded corporate workwear or leisurewear, come to us for assistance.
The Best Advice You Can Hear Regarding Shirt Screen Printing
Whether you need a bulk order of uniform screen printing completed for a company event or t-shirt screen printing for a school fun day, we can offer you several helpful pieces of advice. Firstly, your artwork is critical. If you do not have your artwork correctly set up, the final print will be disappointing. You also need to make sure that your printer applies the correct, adequately cured ink. Some kinds of ink will smudge if left uncured - a disaster waiting to happen. We always do a test run of one item before we start the process of printing all of them. Therefore, if anything does go wrong, we have the opportunity to correct it before we continue.
If you'd like to find out more about our screen printing service or if you have any questions, please do feel free to get in touch with us. We look forward to hearing from you.
We print on Supplied or sourced apparel. You can supply the artwork or our graphics department can create for you at minimum cost. See our prices below.
Slide the pricing left to view more